EMERGENCY AND OUT OF HOURS
In case of dental emergency (trauma, swelling, uncontrolled bleeding or severe pain) arising outside of normal practice hours, cover is normally provided by the NHSSB Relief of Dental Pain Clinic at 80 Larne Road Link, Ballymena. They can be reached from 6-9pm Monday to Friday, and from 9am-12pm at weekends and Bank Holidays, on 028 2566 3510.
Please phone us first on 028 7034 2393, as it is often possible to speak to one of our dentists.
 At the Townhouse Dental Practice, we take great care with all the Personal Data we hold, to ensure we comply with best professional practice and with the law. For a full copy of our Data Privacy Notice please click here.
Advice
Self-help measures
Self-help measures Avoid stimuli that precipitate or worsen the pain, such as hot or cold foods or cold air. Holding cooled water or crushed ice around the tooth can help
some types of dental pain. Severe pain from the mouth or teeth sometimes feels worse when lying flat, so try lying propped up as this might ease the pain. Use painkillers that have successfully provided pain relief for you in the past without adverse effects, such as ibuprofen and/or paracetamol. Avoid taking aspirin as a painkiller if there is bleeding. Always follow directions on the packet for advice on precaution in some medical conditions. If this advice provided proves inadequate, call us back.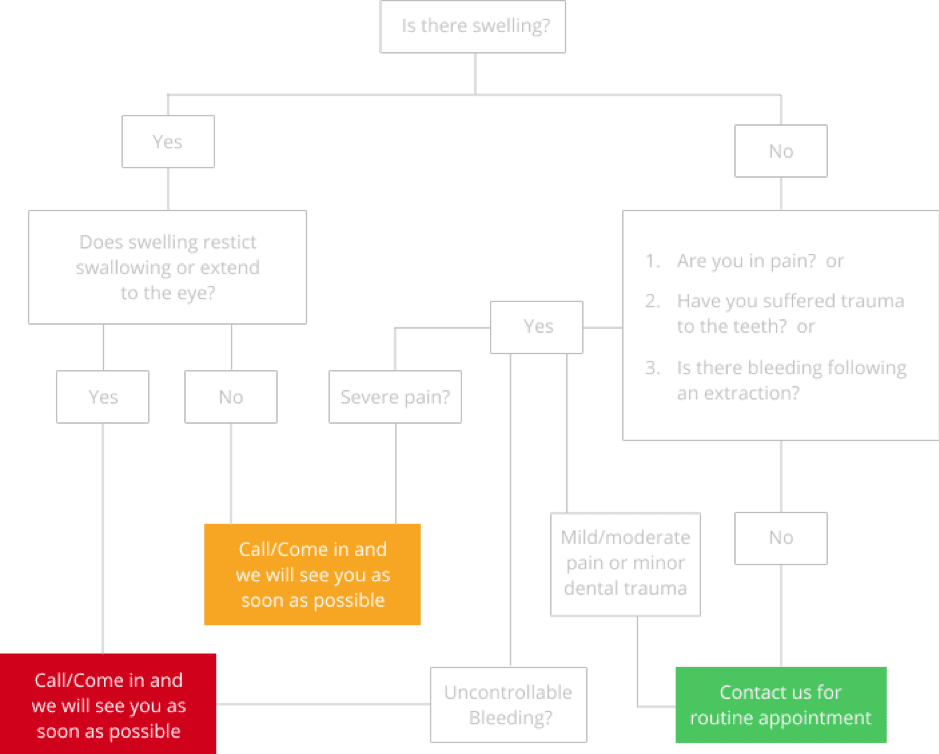 Out of hours emergency treatment
Should you need to contact a dentist out of normal working hours for urgent treatment, please telephone the practice on (028) 70342393, where you will be given further details of our emergency treatment arrangements.